UNIQUE ARCHAEOLOGICAL SITE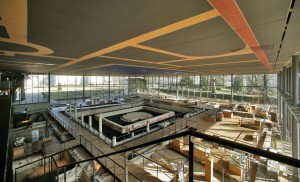 Visit a unique museum in France which is protecting a vast gallo-roman house vestiges, the Vésone Domus. Opened since 2003, in the heart of archaeological and plants park, Vesunna offers a 3000 m2 itinerary of permanent presentation of antique Perigueux.
THE CITY AND PUBLIC LIFE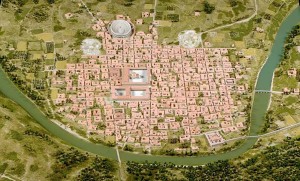 In the long entrance building, two balconies offer a spectacular view onto the archaeological site. Collections illustrate the prosperity of the ancient « Petrucore » administrative centre : the city and its inhabitants, the great monuments, the architectural surroundings, the dead world, religion, trade.
Sculpted stone blocks found in re-use in the late Empire rampart are this collection cultural wealth which has been built up since the XIX th century : architectural elements, inscriptions, funerary monuments… Three models reconstitute the city, the Tutella, Vesunna temple (Vesone Tower) and the amphitheatre dating from our era IInd century.
HOME AND PRIVATE LIFE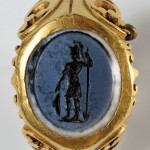 On the footbridges laid on the archaeological site, objects explain the site and the main elements of everyday life in corresponding spaces : washing and finery in the thermae, the meal close to the kitchen, the heating in a room heated with a hypocaust system.
 Murals discovered on the site at the time of the excavations have been replaced on the walls, among which the famous fishes painting in the middle of the garden.
AN ARCHITECTURE BY JEAN NOUVEL
Jean Nouvel the building project architect has completed a great number of works throughout the world. He is in particular the architect of the Quai Branly museum in Paris. A large umbrella, which is protecting the antic walls, floats above it. From the mezzanines, an impressive view opens onto the vestiges. Further on, the high glass walls reveal the landscaped gardens of the Vesone Tower and the IVth century rampart vestiges. The building is like a window onto the past which is buried under the modern city.
AUDIO GUIDE
An audio guide is proposed to adults and available in five languages: French, English, Dutch, German and Spanish.
Adult groups
Guided tours are offered on appointment to adult groups of more than 20 persons. The rate includes the admission + the guided tour. Reservations are necessary.
Disabled people
Vesunna is completely accessible and equipped of an elevator.
Gallo-Roman shop
Reference books, cookery, books, literature for young readers, comic books, glassware, pieces of ceramic, postcards… Vesunna shop, specialized on Gallo-Roman era, offers you a large choice of books and facsimiles.
Around the museum
Vesunna is located in the heart of very pleasant landscaped gardens; many activities are organized during the summer, allowing you a relaxing break.